Food Safety
Hygiene Score
Unit 28A
Dreadnought Trading Estate
Bridport
Dorset
DT6 5BU
Tel: 01308 456131
Fax: 01308 456571
E-Mail:
sales@davyslocker.co.uk

Tide Times
South West
Shipping Forecast
from the Met Office

A couple of recipes
from Tom Conran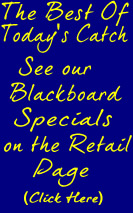 None Registered
Trade Customers
Register Here
For access to
Wholesale Pages
| | |
| --- | --- |
| | Fresh Fish.. |
| | Shell Fish... |
| | Frozen Fish |

Davy's Locker is an established supplier of First Class Fish and Shellfish, which is purchased daily not only from West Country Ports but throughout the UK. Salmon is delivered overnight to us direct from one of Scotlands premier suppliers. We can also source world-wide to meet our customers requirements.
.
We operate a 6 day a week delivery service which is both prompt and reliable, and at very competitive prices.
For the latest prices of fresh fish, shellfish and availability, please contact us, as prices are subject to daily market fluctuation.

As an approved establishment we are able to offer our customer a complete preparation service. Fresh fish can be prepared to your requirements, (at no extra cost) cutting down on valuable storage space and reducing your workload.
To provide our customers with a comprehensive service we also carry a wide selection of frozen seafoods of which we hold a substantial stock. If however you require an item not stocked we will endeavour to obtain it quickly and reasonably for you.

We will be happy to provide part cases where possible.